Exploring Natural Florida, Robinson Preserve in Bradenton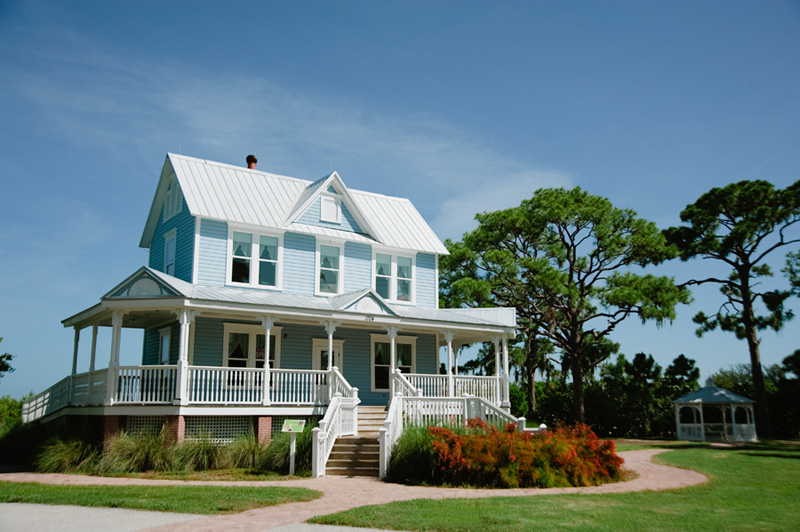 If you are visiting the area and want a taste of authentic Florida, you might want to spend an afternoon exploring the Robinson Preserve in Bradenton.  A few years ago this former farming area was restored to it's natural, beautiful state and is now a 487 Acre preserve where you can visit…for free.
(click to photos to enlarge)
As you enter the park you will be greeted by the very stunning Valentine House. (first photo)  The house is over 100 years old and after moving on a barge from Palmetto and having quite the face lift, she greets visitors with her elegance and charm. You can go inside and learn a bit about what you will see at the park and have a chat with one of the friendly people who work there. (We chatted with Rudi, a fellow Bavarian who also lives here now!)
At the reserve you can canoe, kayak, bike, hike, and picnic. There are trails winding through the mangroves for you to explore. There is a kayak and canoe launching area, but unfortunately you will need to bring your own. A large observation tower is also on the reserve for you to climb to see stunning views of the surrounding bay, Anna Maria Island, and even the Skyway bridge. The park is open every day from 8:00am until sunset. The gate closes at sunset so be sure to have your car out of the parking lot by then if you want to drive home!
The people who restored this area did a magnificent job. You feel as though you've gone a million miles away, when in fact your right in the middle of town. It's a wonderful spot to get away for the afternoon and get lost in the mangroves. I'm looking forward to returning on a fall day when the temperatures have dropped a bit and perhaps the migrating birds are passing through for a photo. :)