Europe Travel Tips: A Day In Graz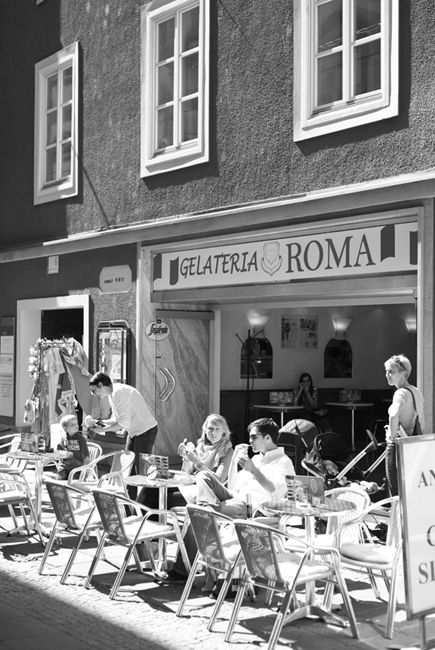 I have traveled to Vienna quite a few times now, and while it still holds as one of my very favorite cities, Graz certainly impressed me. I was only in Graz for 1 1/2 days but I would love to go back and see this city again. The brightly colored, intricately designed architecture is  beautiful and the city itself is very inviting. I wasn't bothered at all to wander the streets by myself after meeting a friend for coffee.
The first thing I experienced is going up the stairs to the old clock tower. While this is no hidden travel treasure I'm sure, it is a great way to get some nice views of the city, especially if it is you first time visiting and also get a little exercise before you move onto ice cream (I'll get to that in a second). There is also a cafe at the top where we grabbed a coffee and took in the amazing views.
After taking the traditional photo in front of the clock tower, my friend had to leave me and I was on my own to find lunch. After debating on sitting down somewhere to eat something healthier or finding something cheap, I was pleasantly surprised to find delicious grilled calamaris at a street food vendor for only 5 Euros! Score! I was so proud of my find that I took a picture just to show everyone. Just grab a spot and plop down…and while most of the costumers are having their early morning/afternoon beer…everyone is equal at Austrian imbiss stands and I actually didn't feel uncomfortable at all, and I had a great, cheap lunch!
After lunch I was craving that summer time ice cream which seemed to be every where I looked. I followed where people were coming from and found a really great ice cream spot on the corner of Schlossergasse and Hans-Sacs Gasse. (first photograph) It was really one of the best ice creams I have eaten and for a really large scoop, only 1 Euro. Lovin' it!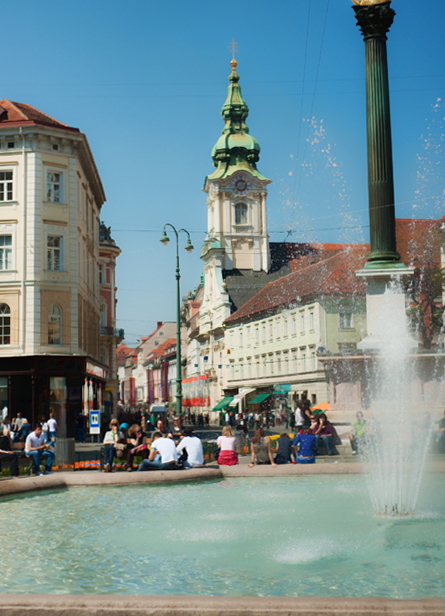 After that I wandered through the city's large streets and small alley ways and admired the buildings, did a little shopping, and of course took pictures. There were street vendors selling great items around almost every corner and the city is lively with people from all over the world. After returning to our hotel I was able to meet up with my husband and we found a great spot to have dinner. Las Tapas is a great restaurant which was a 600 year old horse stable right in the city center…and if your like us and really enjoy tapas, the food and atmosphere of this place was pretty hard to beat.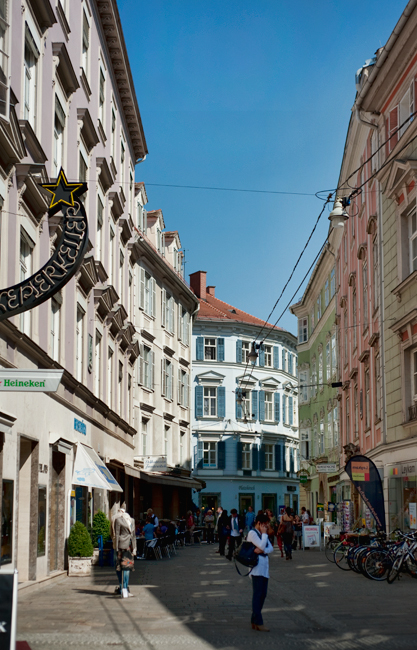 So if your in Austria you might not think of visiting this city, but it is well worth it! It's a beautiful town with lots to offer anyone. I was pleasantly surprised actually just how nice it was, and will certainly be returning there one day!