Europe Travel Tips- Cinque Terre, Italy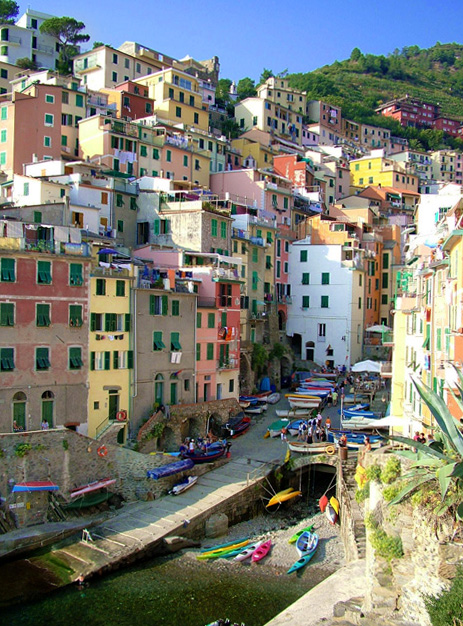 If you are planning a trip to Italy, in my opinion, this should certainly be one of your stops. Cinque Terre is an area in the North of Italy, between Genoa and Pisa, made up of 5 villages that are suspended between land and sea on the cliffs above the Mediterranean. Monterosso al Mare, Vernazza, Corniglia, Manarola and Riomaggiore (pictured above) are spread out over 10 kilometers and because of their locations these cities are not disturbed by traffic or modern expansion.  And although these cities have their similarities, each has its own distinct character.
When I visited Cinque Terre I stayed at the Southernmost village of Riomaggiore. Much less touristic than the "larger" town of Monterosso al Mare, but it was exactly how I had pictured Italy. A beautiful, quiet place tucked on the side of a cliff with colorful houses above beautiful blue ocean. Perhaps I watched "Under the Tuscan Sun" one too many times, but either way…it existed, and I loved it. My other favorite spot was certainly Vernazza. (pictured below) If… rather when, I return to Cinque Terre, this would be where I would like to stay.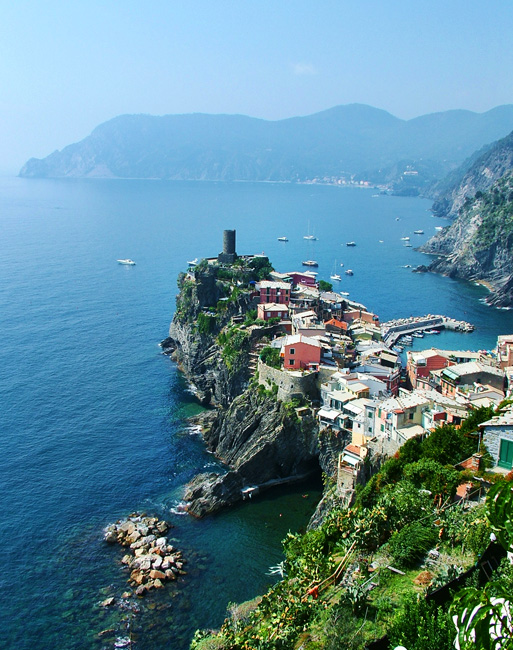 When in Cinque Terre there is something you must do (apart from drinking wine and eating delicious seafood). You must walk along the Sentiero Azzurro, or the "Light Blue Trail". It is a hiking trail that connects the five villages and is about 10km long. Of course you don't have to walk the entire trail (but if your feeling ambitious, it takes about 5 hours with little stopping), there are trains that also connect the towns. Some parts of the trail are easier than others. The shortest and easiest bit being between Manarola to Corniglia and the most difficult being between Vernazza to Monterosso. The trail between Riomaggiore to Manarola is rightly named Via Dell'Amore "Love Walk", with its magical views is very romantic. (This part of the trail is also wheelchair friendly) When I was there, I made it through 4 of the towns before retreating to the train, but I'm determined to do the whole trail next time ;) It is well worth every stair (and there are a lot!), so be sure to bring your camera for some of the most spectacular views you've ever seen!