Travel Tips for Visiting Sao Miguel, Azores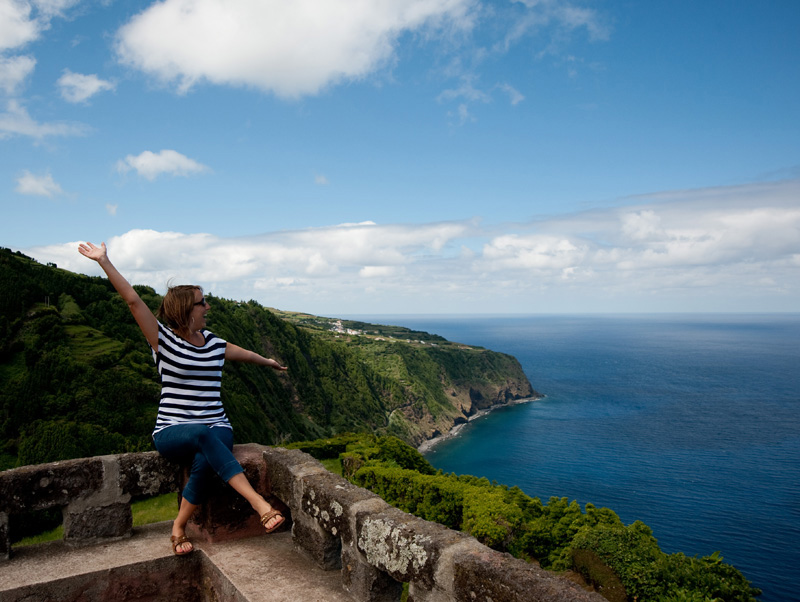 As we planned our trip to the Island of Sao Miguel in the Azores, I found there isn't a whole lot written about these islands. The main information I found online basically all agreed on one thing, this place is magical. They were right, but in case your like me and like to know more details about where your going, I would love to share with you a few tips I gathered when traveling to this amazing place.
Getting there: Can prove to be a little more difficult than one would think. Sata and TAP Airlines fly into the islands but not that many flights are coming and going. It seems they have direct flights from Oslo, Stockholm, Frankfurt (I think), Boston, and Lisbon and a few other cities. From Munich it was a bit more complicated to get there and our flights involved long layovers…which we turned into an extra day in Lisbon, so it worked out quite well!  So even though you might have to get a little creative with flights, the trip is well worth it!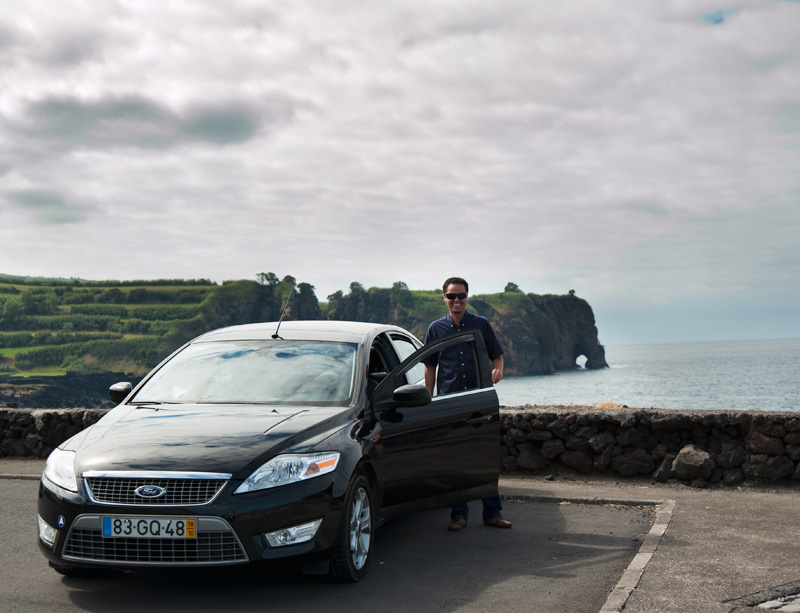 Hiring a Car: This is something I highly recommend if you are visiting Sao Miguel. Even more so I would recommend you hire a tour guide…and even more than that, this tour guide.  Rui was not only a tour guide, but really made our trip special. He was funny, nice, and helpful and showed us a side of the Azores we might not have seen without him. (Rather, definitely wouldn't have)  He has lived on the island his entire life and really loves this place, along with showing others why its so wonderful. We had such a great time and after spending 3 separate days touring the island with him, I'm quite sure my mom wanted to pack him up and take him home! So if you are going here and would like someone local to show you around, definitely give him a call…his prices are very fair and the personalized experience is worth it!
Where to Stay? : We ended up staying at the Caloura Resort which is centrally located on the Southern coast of the island. The location is perfect for seeing other areas of the island and the hotel itself is on a beautiful cliff over looking the ocean. For the location alone I would recommend this hotel. Every room has a balcony and at night you can sit out and watch the stars. The rooms are fairly large and although a little outdated, they are clean and comfortable. Beds weren't the softest in the world, but I decided the views well made up for that!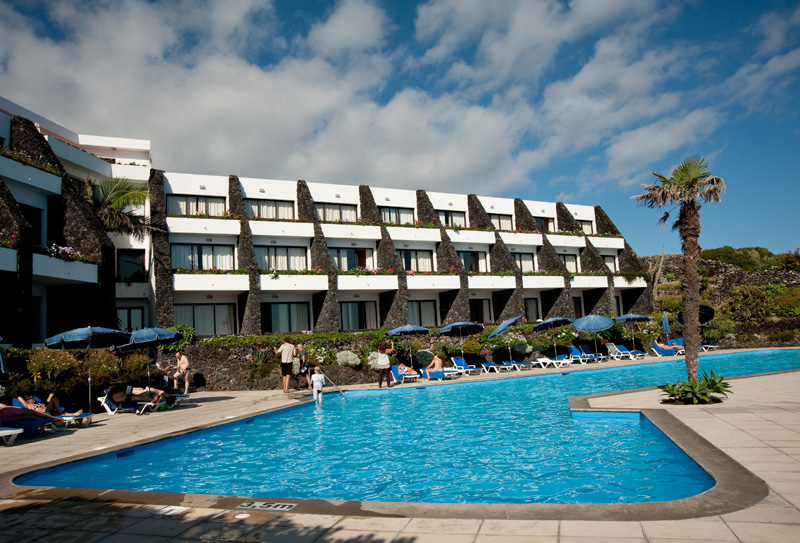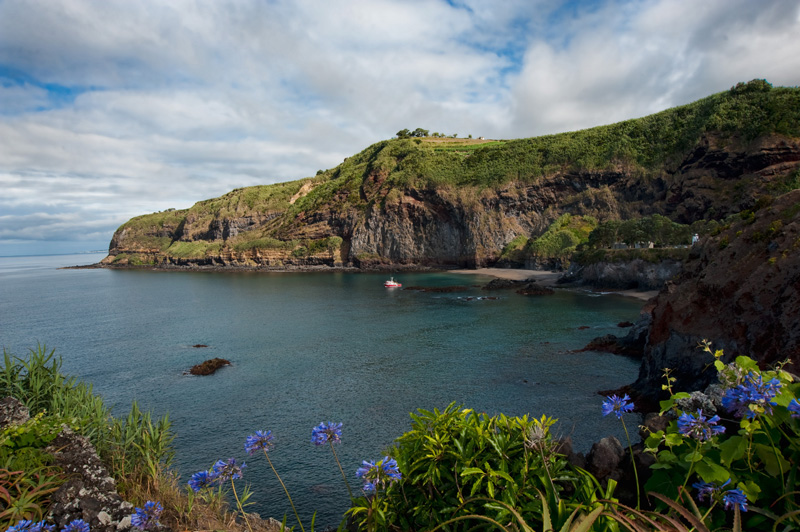 (View from the hotel)
What To Wear? :  The climate here is something else. Although it doesn't vary too much throughout the seasons, it can vary greatly throughout the day. The clouds tend to roll in and out the whole day, and when the sun comes out it was very warm, and as it went away I needed a light jacket. (Ok, I am from Florida, so some of you might be tougher than me) But I recommend for summertime in the Azores, shorts and pants and lots of light layers. Also, it is pretty casual here. I brought a few nicer dresses not really knowing what it would be like and didn't end up using them. Everywhere we went seemed to be flip flop friendly. :)
Visiting Furnas: This valley in the crater of a sleeping volcano is pretty cool and definitely should be a spot on your list when visiting Sao Miguel. The earth is bubbling up out of the ground and its pretty amazing to see. (and not as stinky as you might think) They cook traditional meals in the ground and at about 1:00 you can have lunch at one of the restaurants in town serving this specialty. It's really quite tasty and worth trying…but they give you A LOT of food, so make sure your hungry, or think about sharing! Also, be sure to drive to the top of the crater to look down on the valley…it's quite a view! (Pictured below)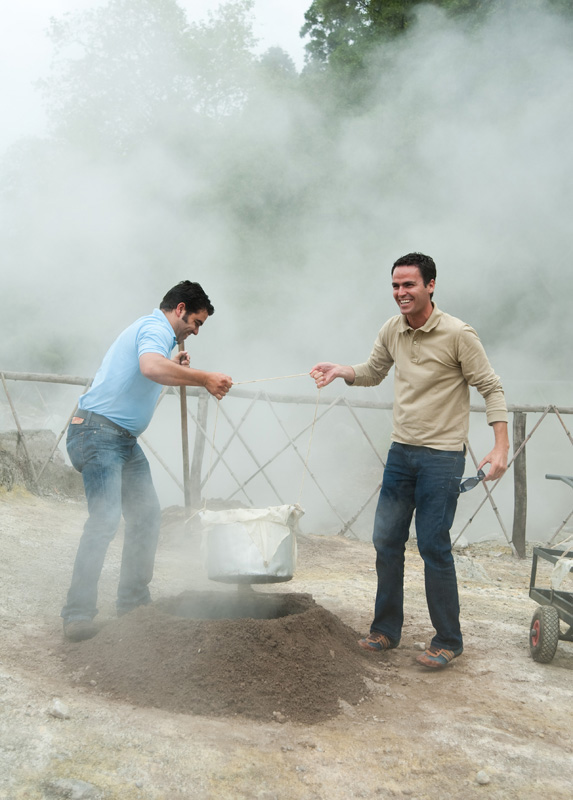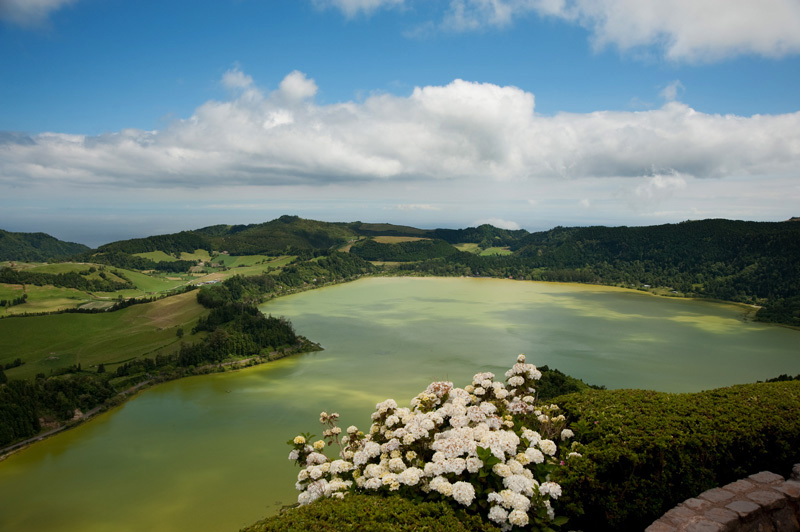 Terra Nostra Park :  While visiting Furnas, I would definitely make a stop at this beautiful hot spring and botanical garden. There is a small fee to get in, but it is really worth it. You can go for a swim in the hot springs (pictured below). Make sure to wear a darker colored bathing suit as the water can discolor it! It's really warm though and is quite nice to swim in after a big lunch. Also take some time to stroll through the gardens, they are really incredible and have every type of plant and flower you can imagine.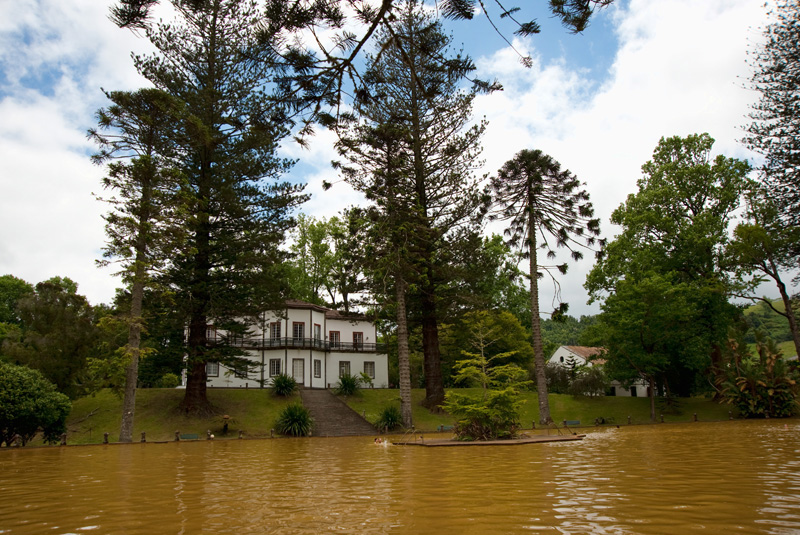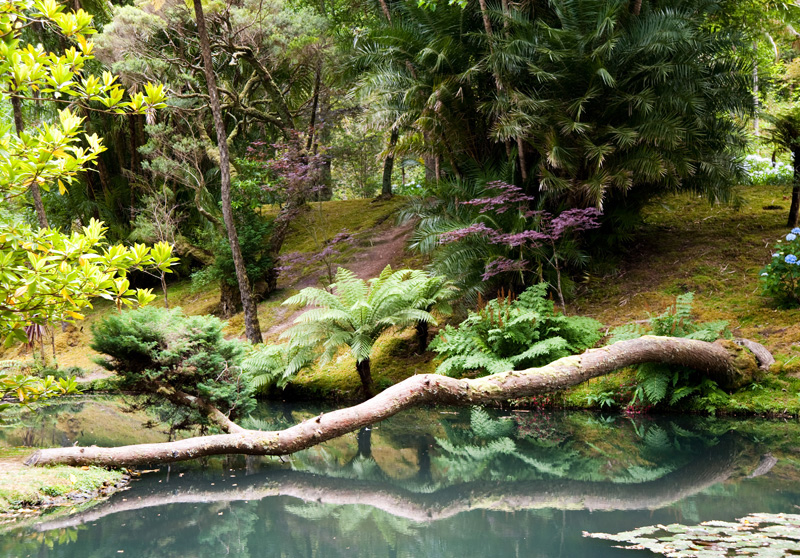 Stop by Ermida da Nostra Senhora de Paz: This small church is located not to far from the town of Caloura and offers a really beautiful view at the top. It's worth a little stop as you drive through this area.
Visit Nordeste: We added this day trip on after getting to Sao Miguel, and it was one of my favorite areas. The town of Nordeste is really beautiful, clean, and flowery. The Northeast coastline is gorgeous and perfect for taking amazing photos. Also in the area is a breathtaking waterfall surrounded by lush tropical landscape. It amazed me how so many different types of plants can live on one small island! I would highly recommend taking a day to explore this part of the island.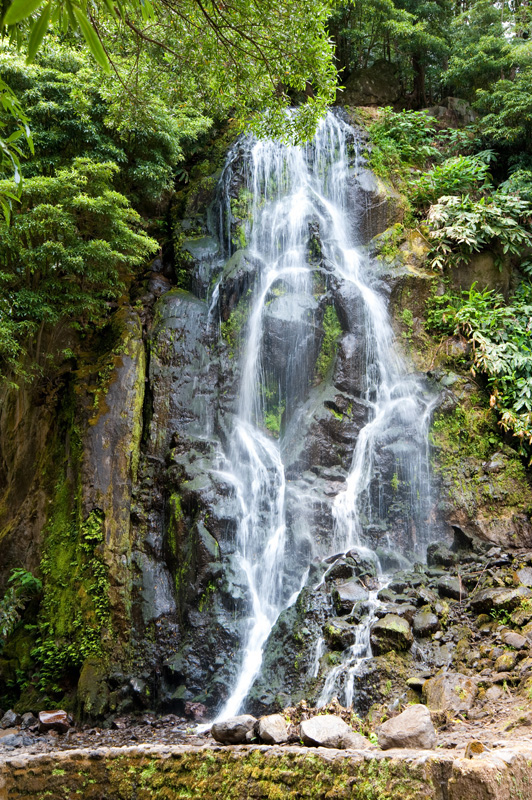 Hotsprings at Ponta da Ferraria: This was really cool. During low tide, the hotsprings fill up this natural pool in the ocean and warm the water. It is quite an experience and I would definitely do this while your here. There is no charge or anything to get down to the area, just make sure you bring good shoes because the rocks are a bit tricky to walk on. There is a ladder into the spring, but I would maybe even bring shoes to wear in the water so it's easier to get in and out.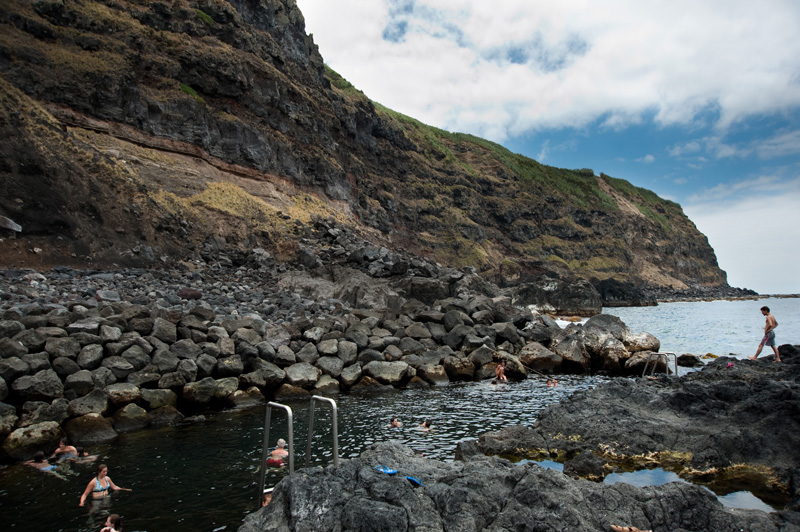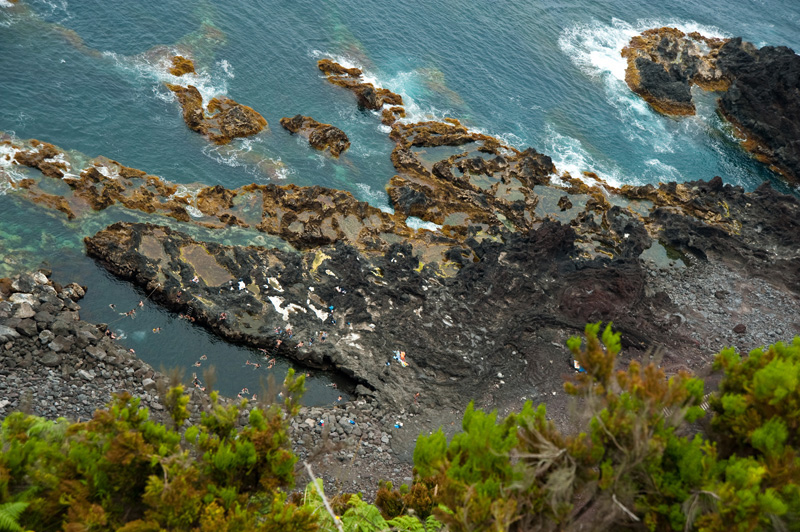 Food and Wine in Sao Miguel: To be completely honest, the food in the Azores didn't excite me alllll that much. It was rather boring, but although this was the case, we did have a few things that we really enjoyed. There is a local "sweetbread" that is really good and we ate it with most everything. If you can stop into a local bakery and ask for it, its worth trying. Also our guide Rui told us about a local place in Ponta Delgada to get fresh fish." Delta, Restaurante Delicias do Mar" is a place off the beaten path, and while the outside didn't look very intriguing, the owner (a local fisherman) was incredibly friendly and funny and we had a great time there. You choose your fish from the fresh caught ones of the day and he grills it up right in front of you. It was really cool. Also, we were able to try a local wine of the neighbor island of Pico, Frei Gigante, which was really really good…so good in fact, I made sure to bring a bottle home!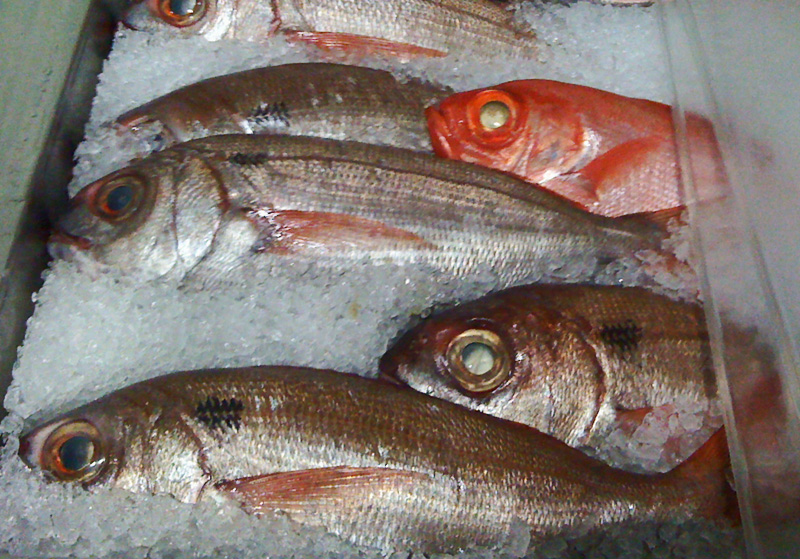 Over all, I found Sao Miguel to be a wonderfully magical place just like everyone said. It was no problem spending a week here and we certainly didn't run out of things to do. I would love to return one day and do some of the things we missed such as hiking and whale watching. The beauty of this place will truly amaze you and even though I like to think I take decent photos…they don't really do it justice. It's one of those beautiful places you have to see yourself!