Quaint Cafes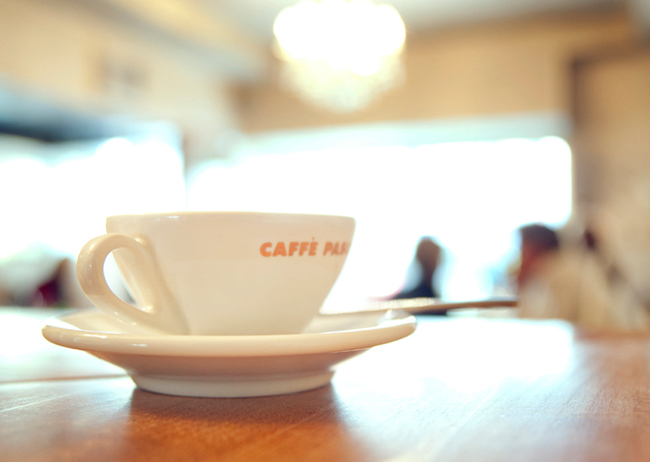 Where I'm from is a land of strip malls and chain restaurants. Now don't get me wrong, I love where I am from. Florida has tons of great things to offer, many of which you will hear about on this blog…but when I'm in Europe one of my very favorite things is finding a small out of the way cafe with mis-matched comfy furniture and sitting with some friends chatting over coffee and snacks. As I travel around I always look for these great little spots, unfortunately I've only just started my blog so my list will start with some in Munich.  I've found that travel books and internet sites rarely mention these cozy little treasures, so hopefully my list will grow as this blog grows and you can use it to find amazing, out of the way, cafes where ever you are staying!
(Click on Cafe names for locations)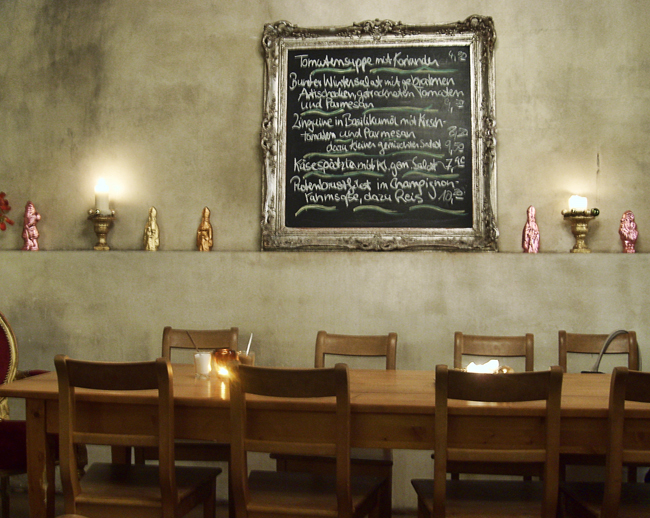 1 Tafel & Schwafel- (Pictured above) Located in Schwabing, Munich, this is probably one of my most frequented spots. They don't have a large menu, but everything I've had there was tasty. Their chalk-board menu changes daily, and usually includes a delicious homemade soup. Also, I can recommend their salads with house made honey balsamic dressing. They also have daily homemade desserts that are yuuuummmmy!
2. Cafe Neuhausen- This cafe is a little larger and more modern, but doesn't lack personality. The food is great, especially breakfast and if it's a nice day, they have a great little outside area. They also have a full bar and turn up the music at night if you want to go for drinks.
3. Nona's- (Pictured above)  My husband and I stumbled along this cute little cafe last year. It is also located in Schwabing and has the feel of a little girls tea party. (I probably liked it more than my husband ;) ) But it was a great place to stop and have a cappuccino and piece of cake. They also have a small menu which had some some delicious sounding dishes to offer.
4. Cafe Mozart- Furnished in old antique worn sofas and chairs, this place has character. It is one of my favorite cafes in Munich. If you can manage to get a spot in the back room you can cozy up with a coffee and some great brunch and sit for hours. It does get quite busy though on Sundays, so you may want to go during the week.
5. Glockenspiel Cafe- This cafe isn't quite as cozy as some, but the view and location make up for it. Located directly on Marienplatz, it provides a great view of the Rathaus and is a perfect place if you are in town visiting or live here and want to bring visiting friends or family. The food is good although a little pricey. They also have a great little outside area if there is nice weather!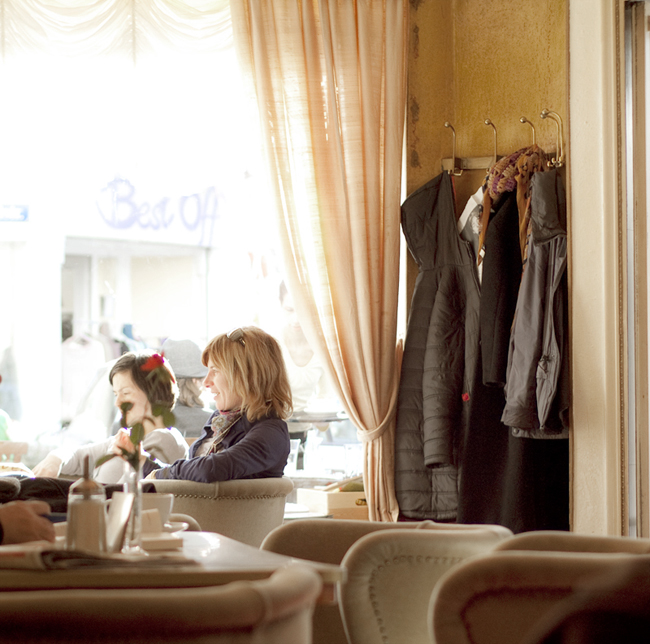 6. Cafe Jasmin- (Pictured above)  This is also one of my favorites. With a retro vibe and and comfortable, cozy spots it is a great place to meet with friends. The mint green velvet furniture, gold wall paper, and pink leather bathroom doors give it a very different feel than your average Starbucks.  They don't have a lot for food, but they do have daily tortes and cakes which are always delicious. Definitely a great spot!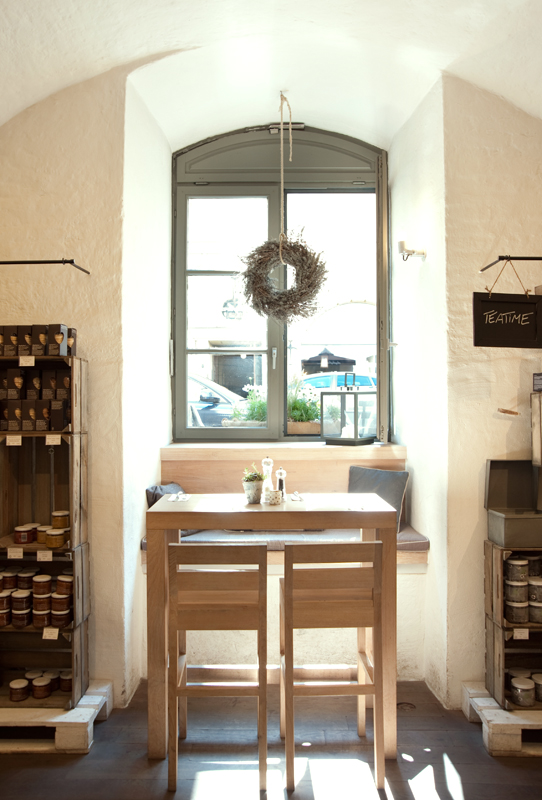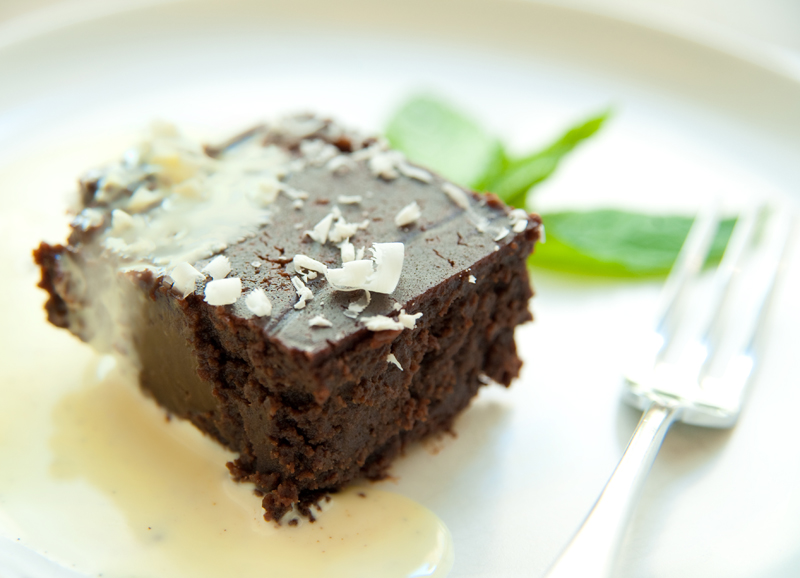 7. Daylesford Organic – (pictured above)  A certified organic restaurant with great food and a cozy atmosphere. Located right in the city center, this is a wonderful spot for breakfast, lunch, or dinner. They also have amazing deserts, one being the chocolate cake pictured above that is a must try!
8. Aroma Cafe – (pictured below)  is located in the Glockenbachviertel area of Munich which is loaded with cool little spots, and this one fits right in. They offer lots of yummy sweet and savory treats and even have a little shop where they sell things from fresh ground coffee to specialty salts. It is really a cute place and I always enjoy coming here. It is normally quite busy, but worth it if you can get a spot.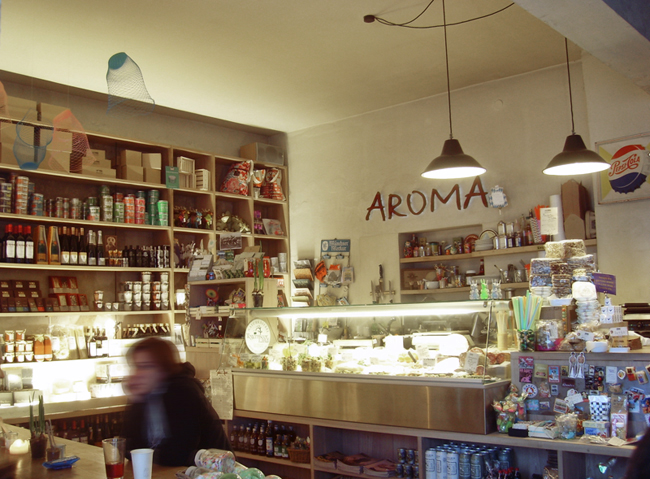 9. Cafe Altschwabing–  (Pictured below) To add to my ongoing list of favorite cafe's is Cafe Altschwabing in Munich. Located in the heart of Schwabing on Schellingstrasse 56, this establishment has been in the city for over 100 years. I was recently introduced to this great spot by a friend of mine and it was easily a favorite. With it's beautiful tall ceilings, elegant but cozy atmosphere, friendly service, and great prices…this is somewhere I will come back to again and again.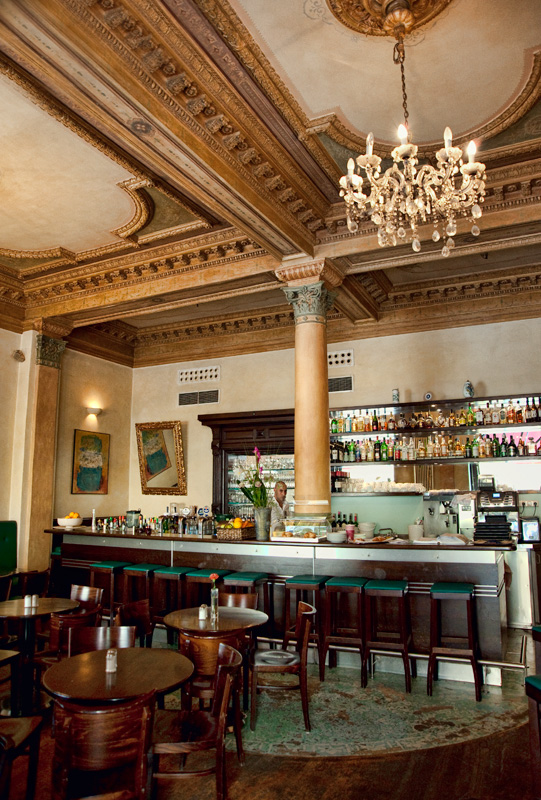 10. Factory Girl Cafe – (Pictured below, the magnificant Magnolias) Located in Friedrichshain, Berlin, this was easily one of the best breakfast experiences to date. The food was amazing and the service was extremely friendly and welcoming. I enjoyed my morning/afternoon here immensely…and then there are the magnolias …yummmmm!!! If your in Berlin, definitely check this place out!