Biergarten Season in Munich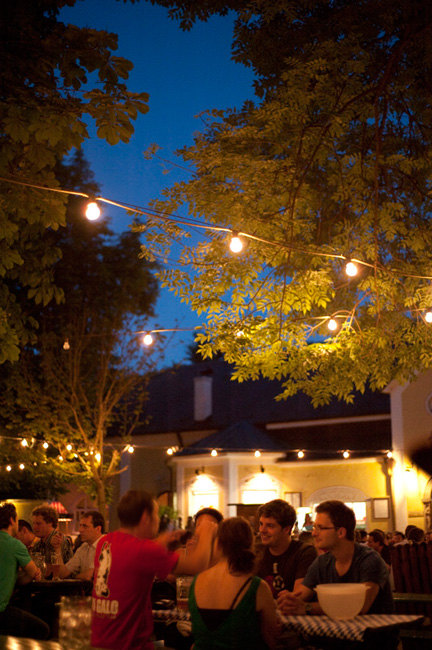 Biergartens are very special to Bavaria. If you have never been to one, let me explain. They are places where there are loads of beer benches and people gather in the summer months to share dinner and a mug of beer with some good friends until late in the evening. Biergartens offer both food and drinks, but you are allowed to bring your own picnic if you wish, as long as you purchase drinks from the garden. They are always located under beautiful chestnut trees and lights are strung from tree to tree to light up the gardens as it gets dark. In the summer, it is one of my very favorite things to do here in Munich, and probably the thing I will miss most if I ever leave.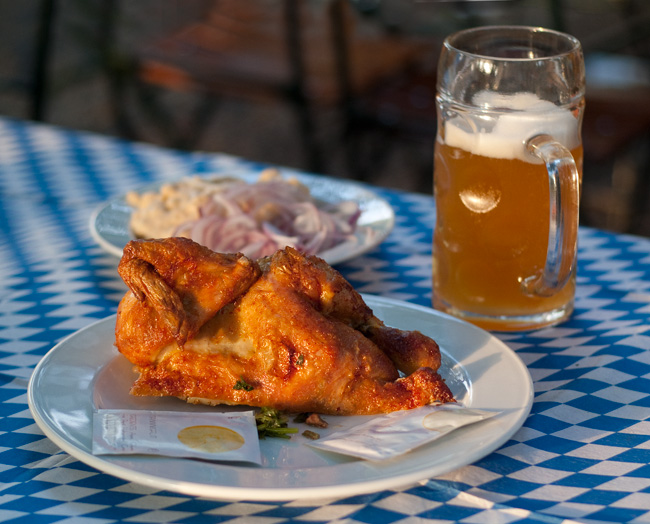 (pictured above, roasted chicken (Hendl' in bavarian) and Obazda ( a must try cheese dip available in every biergarten)
Munich has a number of Biergartens, and the 2 in the English Gardens are probably the most well known. While they are nice, I will let you in on a couple of my favorites around town that are also awesome in their own ways.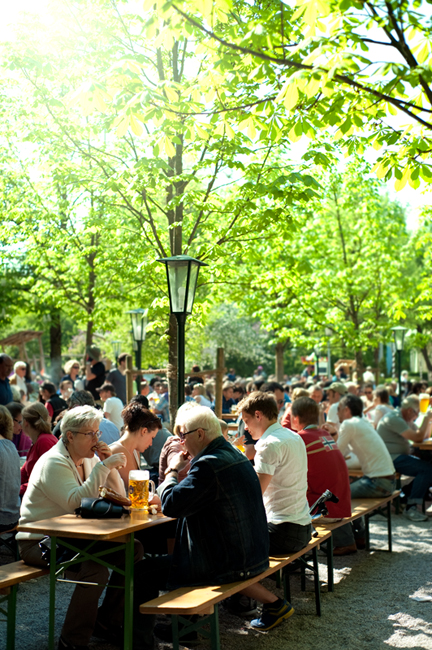 (Aumeister Biergarten pictured above)
Hirschgarten Biergarten– (clicks on link for exact google map locations) The Hirschgarten is one of the first biergartens I experienced and still remains one of my favorites. Located in the Hirschgarten Park this is the largest biergarten in Munich. Translated, the parks name means Deer Garden, and thats exactly what they have there. Along the back of the tables you will see a large game reserve with Deers and Rams. This makes it a very popular biergarten to entertain kids (and adults like me). There is also a new subway station (Hirschgarten) right next to the park making for easy access.
(click photos to enlarge)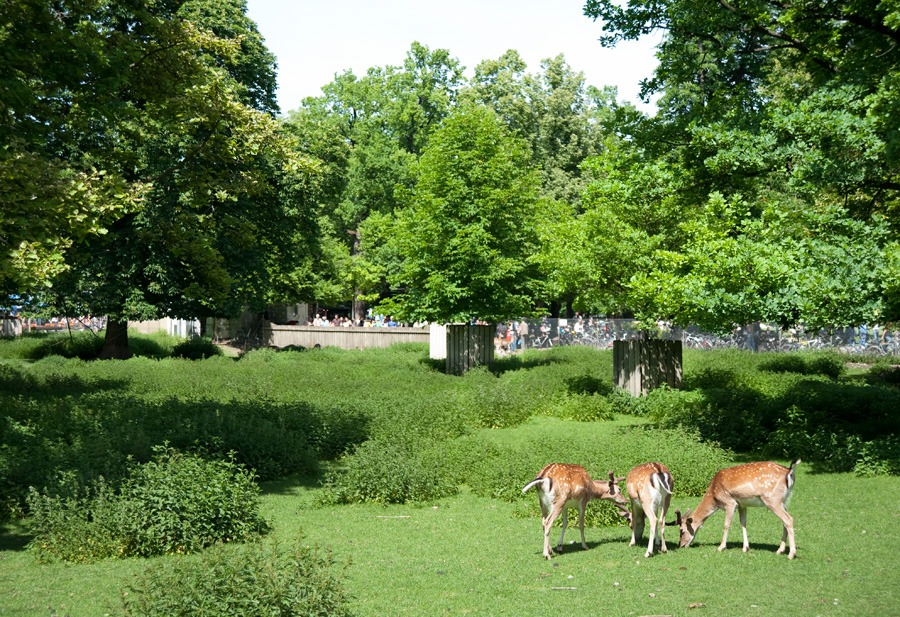 Taxisgarten- (pictured at the top) In my opinion this is one of the coziest biergartens in Munich. Located in the Neuhausen area, we frequented here last year a lot because it was close to our house, and it soon became a favorite. It is a smaller biergarten which I suppose makes for the cozier feeling, but there is still usually plenty of room to grab a spot even on a busy summer day. There is a great little playground for kids and the food is great. Closest U-bahn is Gern and is a short walk from there.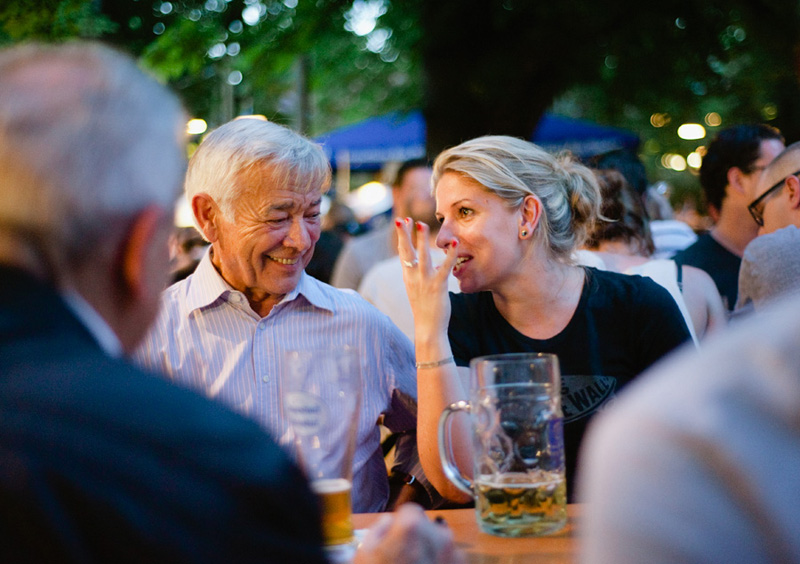 Flaucher Biergarten- If your taking a little day trip along the Isar River in Munich, this is a great place to stop and have lunch or dinner. Very popular with bicyclists who are riding along the river, this biergarden has a vibe a little different than the others because of its special location. On a hot summer day there is nothing better than riding your bike down to the river, jumping in, and then going to get a beer!
Aumeister Biergarten- A friend and I discovered this amazing spot on a trip through the North part of the English Gardens.  It was a really nice day and while the other 2 biergartens located in the park were heavily overcrowded, this one still had room. The food was great and the atmosphere as well. So if your in the English Garden and can't find a spot at the touristy spots, try heading North!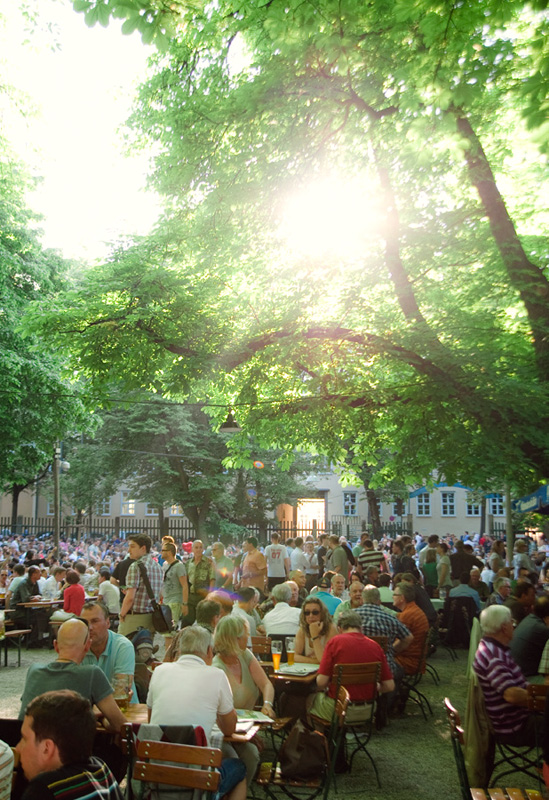 Augustiner Biergarten– (pictured above) Recently I finally visited the Augustiner-Keller Biergarten. It's probably one of the more popular ones, but for good reason. The outside area is large and beautiful. The light filters through the trees and makes for a lovely place to relax. The food is also really good here…probably some of the best Obazda I've had. The location is also great if your just visiting the city and don't know your way around all that well. Located just minutes from the main station, you can arrive and have a beer in hand in no time!
So there you have it, a couple of my very favorites. Make sure if you are in Munich you stop at one of these and get a Hendl' and a Bier or Radler (half beer half lemon soda, very refreshing!) Prost!!