Overnight Alpine Hiking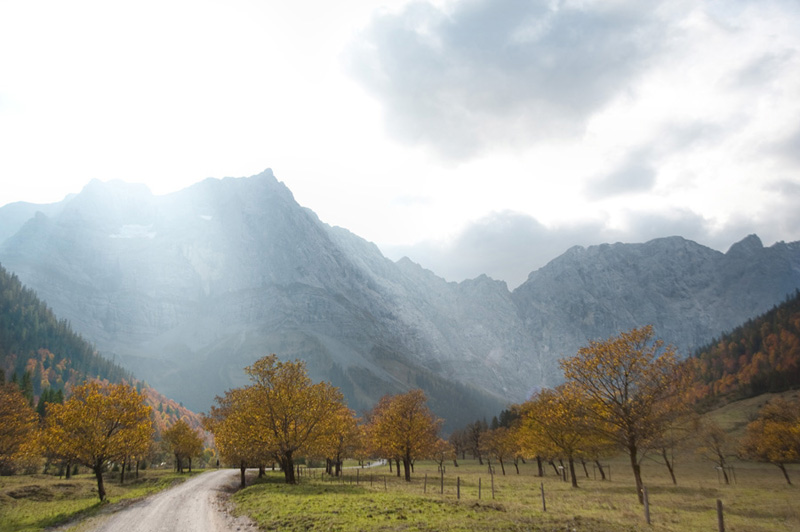 Even though I have lived at the foot of the Alps for about 4 years now, I have (embarrassingly) just discovered overnight Alpine hiking. Although I have been on many trips around Munich for day hikes…ie- here, here, and here… I had yet to experience the true joy of spending the night in the mountains. And let me tell you right now, it. is. amazing.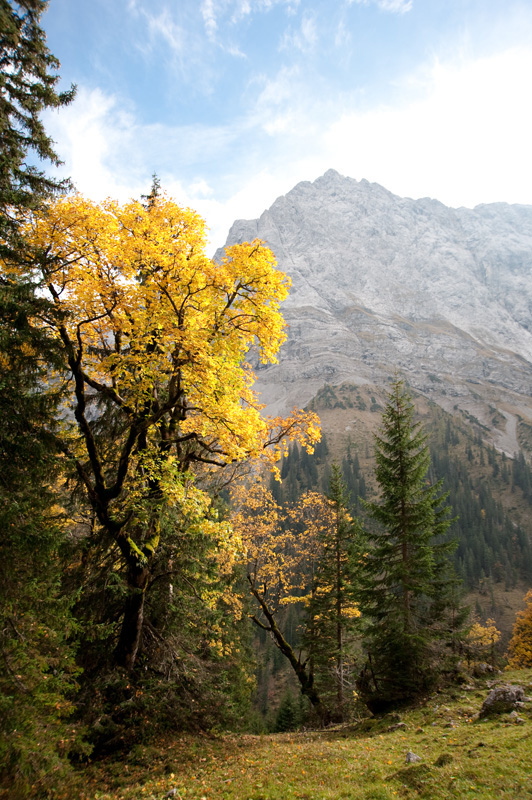 If you are like me, you might have the wrong idea of overnight hiking. A friend of mine had been attempting me to go with her on an overnight hike for a while and I was just not having it. Normally in the US if you want to go hiking overnight it means schlepping everything around with you. Bringing a tent, sleeping bag, food and other necessary items while also attempting to hike was not really my idea of fun. But in the Alps (Those Austrians, Swiss, and Germans are so efficient) they have created an amazing system of trails linked by huts for you to enjoy many days of alpine hiking without the hassle of feeling like a mule carrying around everything. Genius.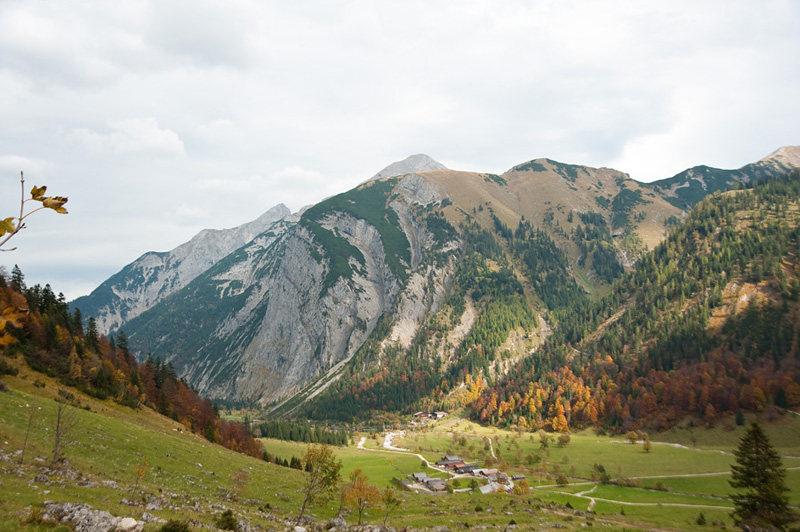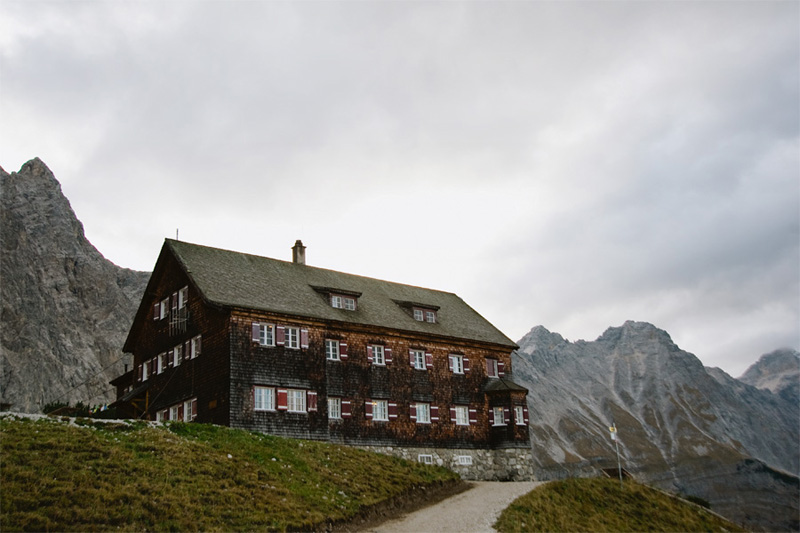 Now, they call them "huts", but as you can see by the above photo, that isn't exactly the best word to describe them. They are large houses with room to sleep quite a few people. The sleeping arrangements are normally large, communal rooms with many beds lined up together. Some huts offer private rooms, but you would have to do a little research to find out which ones. There is normally a restaurant in the house serving up traditional Austrian/German fare, which tastes mighty good after a full day of hiking.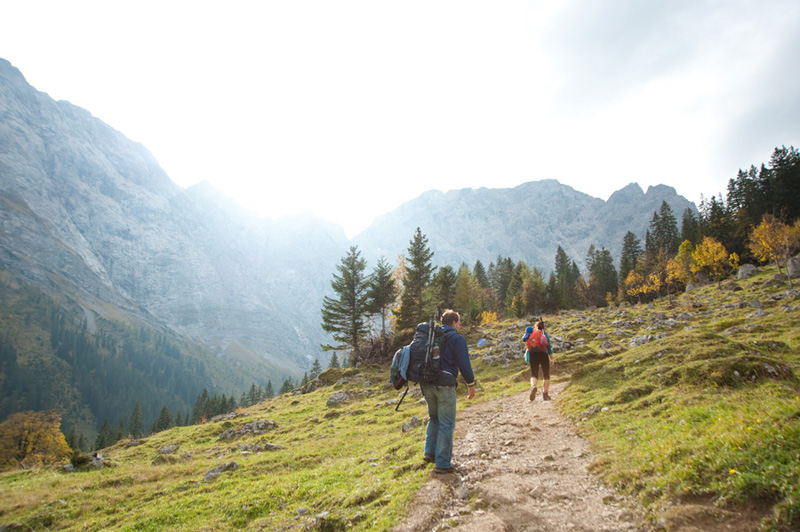 The whole system is very well organized and easy to use even if your a foreigner (from Florida) like me. A great website to check out some of the MANY trails is Wandermap.net. The huts get fairly busy in the summer, so reserving a space is highly recommended. The Austrian Alpine Club is a great place to find lots of information on different huts and what they offer.
On our trip we did an overnight hike up to the Falkenhuette from the Ahornboden (pictured below) in the Karwendel Mountains.  The hike was about 3 hours up (and that was with me stopping every 10 minutes to take a photo) The way up was fairly steep but nothing I couldn't handle as a beginner. The hut was cozy and while the rooms aren't heated, you are provided with thick blankets to keep you warm during cool mountain evenings. The restaurant had good food and Gluhwein (hot mulled wine) which was very much appreciated after a hefty hike in the fall air!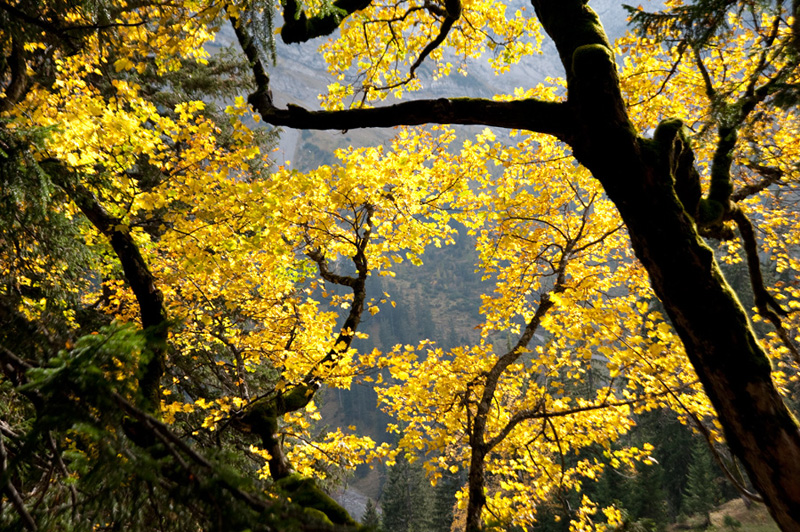 I was a bit sad I didn't realize how amazing overnight hiking in the Alps could be until the very end of the season this year…but I am certainly looking forward to planning some trips next summer and taking full advantage of this amazing area while I live here! Even if you are just a little adventurous, I highly recommend doing a tour through some of the most beautiful areas of the world…on foot. You will most definitely not be disappointed.